PT'MOVEMENT Wellness Centre Offers Chiropractic Care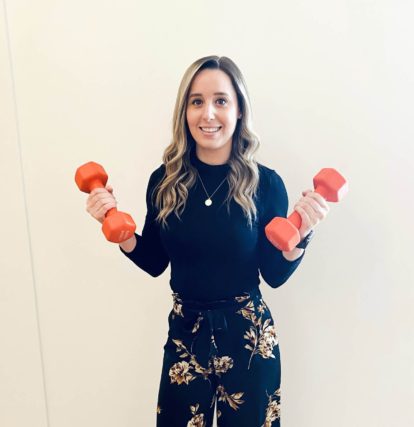 Chiropractic care is a patient-centered, non-invasive, hands-on healthcare profession focused on your spine, muscles, joints, and nervous system.
Every patient has a story.
Our chiropractic team understands that every patient is on their own health and wellness journey. When creating a treatment plan for you, our Doctors take into account your individual lifestyle, health history, and movement goals.
As an evidence-based practice they assess your muscles, joints, and nervous system, presenting their findings to you in a way that reflects your goals. Chiropractic treatments aim to optimize your health, by managing pain, improving mobility, increasing function, and ultimately, helping you understand your body better.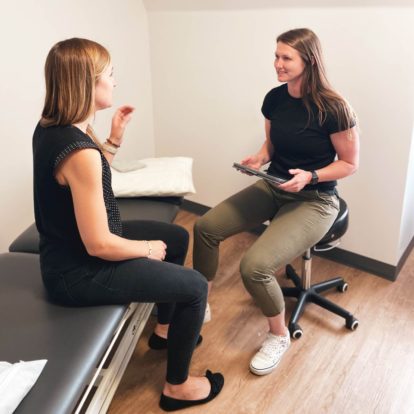 Common complaints that chiropractic treatment can help to manage:
Neck and Back Pain

Sprains and Strains

Headaches

Sport Related Injuries

Jaw Pain

Sciatica or Piriformis Syndrome
Osteoarthritis

Tendinopathies

Frozen Shoulder

Rotator Cuff Injuries

Hip and Knee Bursitis

General Mobility Concerns
Helping you meet your health and movement goals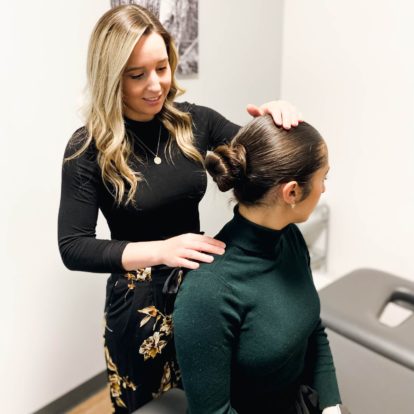 Because chiropractic care is patient-centred and evidence-based, your Doctor will utilize best practices to ensure that your goals are met. Treatment may include any of the following:
Spinal/extremity adjustments
Soft tissue therapy
Joint mobilizations
Acupuncture
Exercise prescription
Education
Taping
Cupping therapy
Modalities (Laser Therapy, Ultrasound, Shockwave Therapy, IFC, etc.)
What to expect from your initial chiropractic assessment at PT'MOVEMENT
An in depth conversation about your health history and your reason for seeking care.
A physical examination to get to the root cause of your concerns.
An explanation of your exam findings
An individualized plan of care designed to help you reach your specific health goals.
Your first treatment!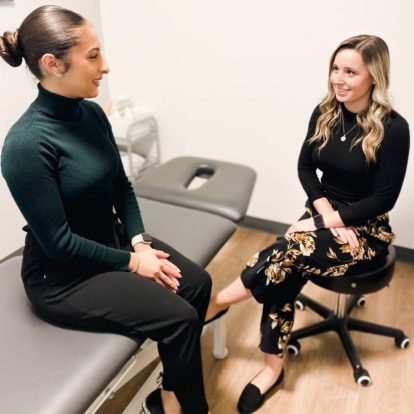 The most commonly asked questions…
What is that POP I hear during an adjustment?
An adjustment is a high velocity, low amplitude thrust targeted at a specific joint segment to help increase mobility and decrease pain. During an adjustment, you may hear a popping sound.
Think about opening a can of pop. When you crack the can open, it quickly lowers the pressure inside of the can as the gas rushes out. This creates a hissing noise.
Similarly, the joint being adjusted is separated very slightly, causing a drop in pressure in the synovial fluid between the joints – the release of a gas bubble – and that signature "POP" sound.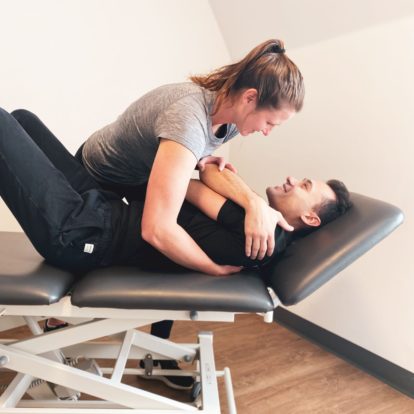 What if I am not comfortable getting adjusted, can you still treat me?
Short answer – Yes.
Long answer – Our chiropractors utilize a wide range of treatment methods to achieve your health goals. Adjusting a patient is just one of these methods, but our Doctors always work with you as an individual. During your first visit, you can discuss any and all concerns with your Doctor, and together you can establish a plan that suits your needs but also achieves your health goals.
Ready to get started? We offer complimentary meet and greets with our Chiropractic team!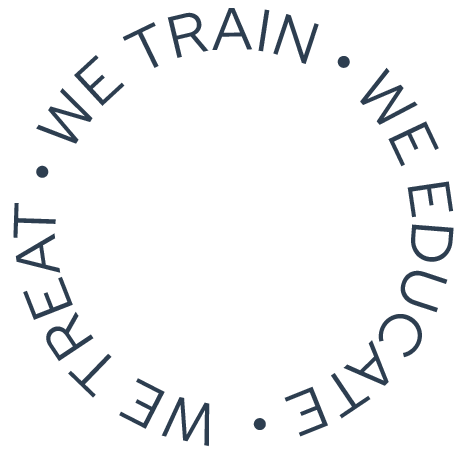 Start your treatment with PT'MOVEMENT Wellness Centre. Book an appointment today.