Where Movement, Science and Energy meet – that's where you'll find Riandre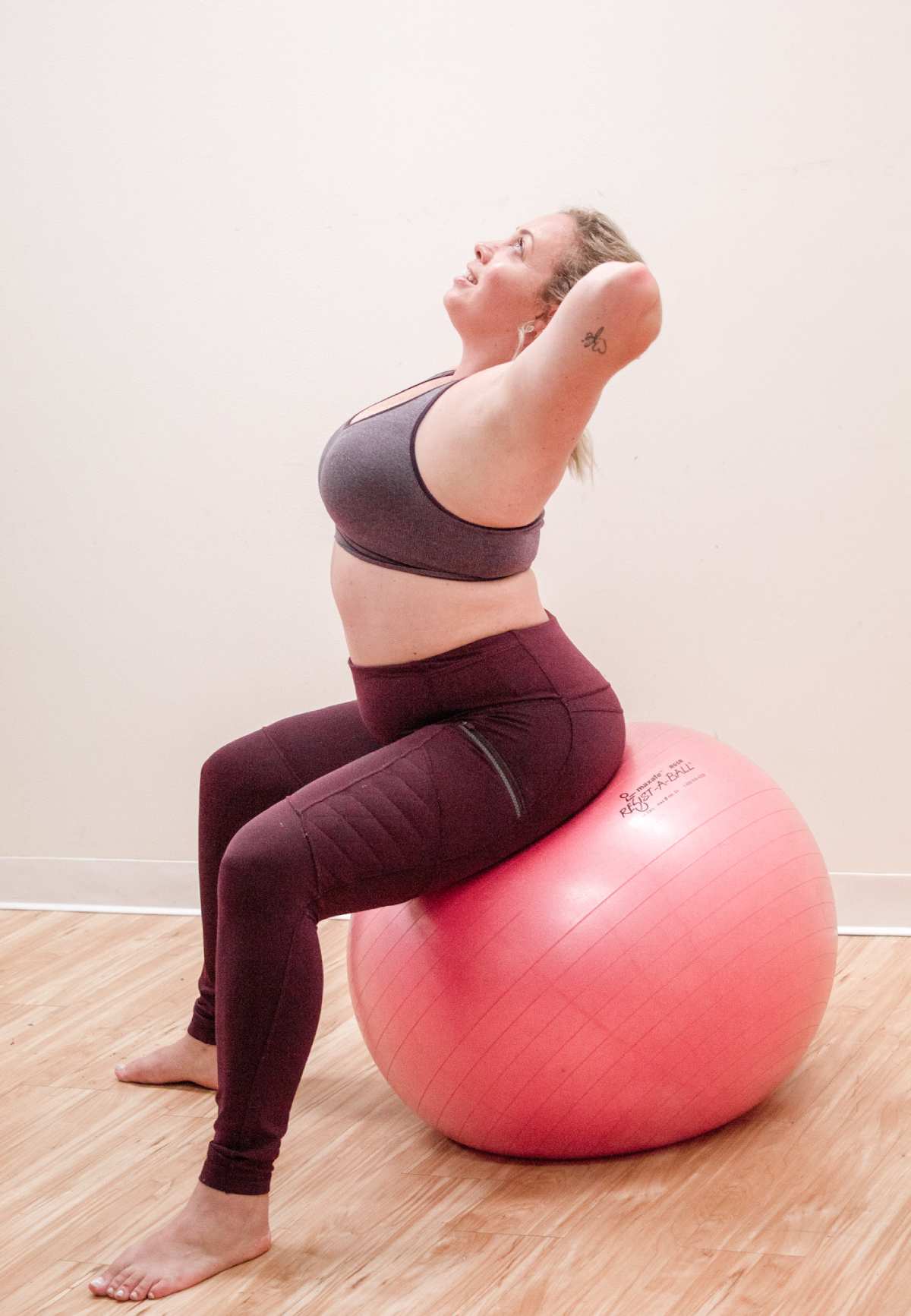 Riandre joined our team at the end of 2021 and we instantly felt she brought a spark – an energy – that unified both the wellness and therapeutic aspects of what we do here in Ballantrae.
She has this unique set of skills that ultimately embodies the very thing that Owner, Valerie Rolf von den Baumen, envisioned when she dreamt up the concept of PT'MOVEMENT in its entirety. With the addition of Riandre, we have hired our first engineer, as we set forth to construct a bridge between physiotherapy, GYROTONIC®, and Pilates communities.
How ironic that in deciding her career path, she was torn between engineering and physiotherapy.
When I was born, my grandfather had a stroke. A physiotherapist would come in weekly to treat him, and I witnessed him get better with the help of this physiotherapist. When I decided to choose physiotherapy as a career, I was torn between physiotherapy and engineering. Seeing this growth in my grandfather was the turning point that made me want to ultimately choose physiotherapy as my career path. It is beautiful to see someone who couldn't walk, be able to walk, and someone who had pain turn their circumstances around and live once again pain-free. It is beautiful to be able to help people improve their lives. This is what ultimately guided me to my profession as a physio.
Her love of movement and her desire to help others move in their fullest capacity is something Riandre has been developing for many years. In addition to her time as a physiotherapist in Brazil, she had also been teaching Pilates for 12 years, and practicing it herself since the age of 15! She will tell you that her favourite part about teaching Pilates is the evolution she witnesses in her clients.
So many of my clients tell me about the lifestyle improvements they experience after doing Pilates – like being able to get out of bed or out of the bathtub without issue – that they feel stronger, more mobile, and that their bodies just flow better. I am incredibly happy to be a part of this journey with them!
Another reason that we trust Riandre to engineer this "bridge" with us is because of her history with the GYROTONIC® Method. In Brazil it was already common practice to utilize these kinds of exercises within a patient's physiotherapy plan of care. They understand that GYROTONIC® principles work well within physiotherapy practice because the movements target all layers of muscle and fascia in the body, and yet are so specific. The body can be strengthened in a functional and safe way for each patient because it can be easily personalized.
And like the rest of our physiotherapy team, Riandre, too, is a believer in the therapeutic benefits of movement.
I love GYROTONIC® – for me it involves far more dynamic movement than any other training, and movement is practiced more globally, and with great fluidity. The combination of various movements ensures that exercises are similar to those of everyday life.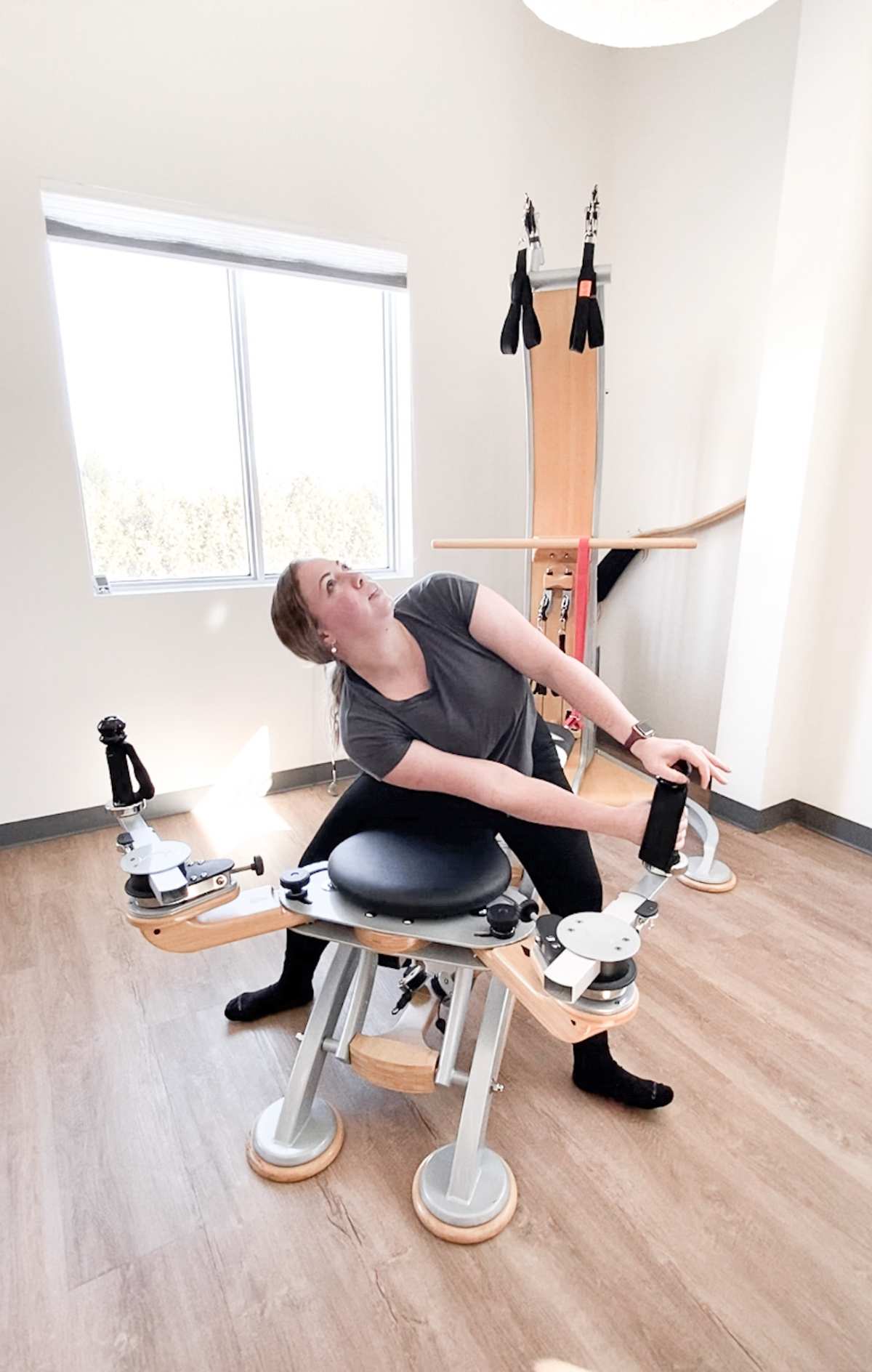 When Riandre immigrated to Canada, continuing with physiotherapy meant relicensing and many logistical obstacles However, her knowledge of the body and her love of movement gave her the tools she needed to successfully pivot. She enrolled in school for Osteopathy, and learning more meant an even more elaborate "bridge" could be constructed. She plans to graduate by 2024 – and you can be certain that we have big plans for her in that capacity too!
I am in LOVE with osteopathy – I have been learning so much about the body as a whole. The body is so powerful, with this great capacity to heal itself. When you dive deeply into the physiology of the human body, you better understand the impact you can make with the smallest of adjustments, and it is impressive. That is the most fascinating thing – how a single movement can change your whole body, not just externally, but internally (cells, drainage system, circulation, etc.).
Building her knowledge as an Osteopath and continuing her training in the GYROTONIC® Method, Riandre has had many revelations. She has come to recognize how many of the movement pathways in the GYROTONIC® system provide a very similar effect on the body that an Osteopathic manual treatment might. Perhaps you could say it was meant to be – giving Riandre an even more complete picture of the human body and understanding the effects of movement in an entirely different capacity.
The best part about Riandre – she has an energy that draws you in and is oh-so-motivating. Movement is fun with Riandre. Currently teaching both private and group Pilates, as well as GYROTONIC® sessions, time spent with Riandre is sure to have you seeing and feeling results in your body and life.
Not sure which type of training would suit your movement goals best? Riandre would say,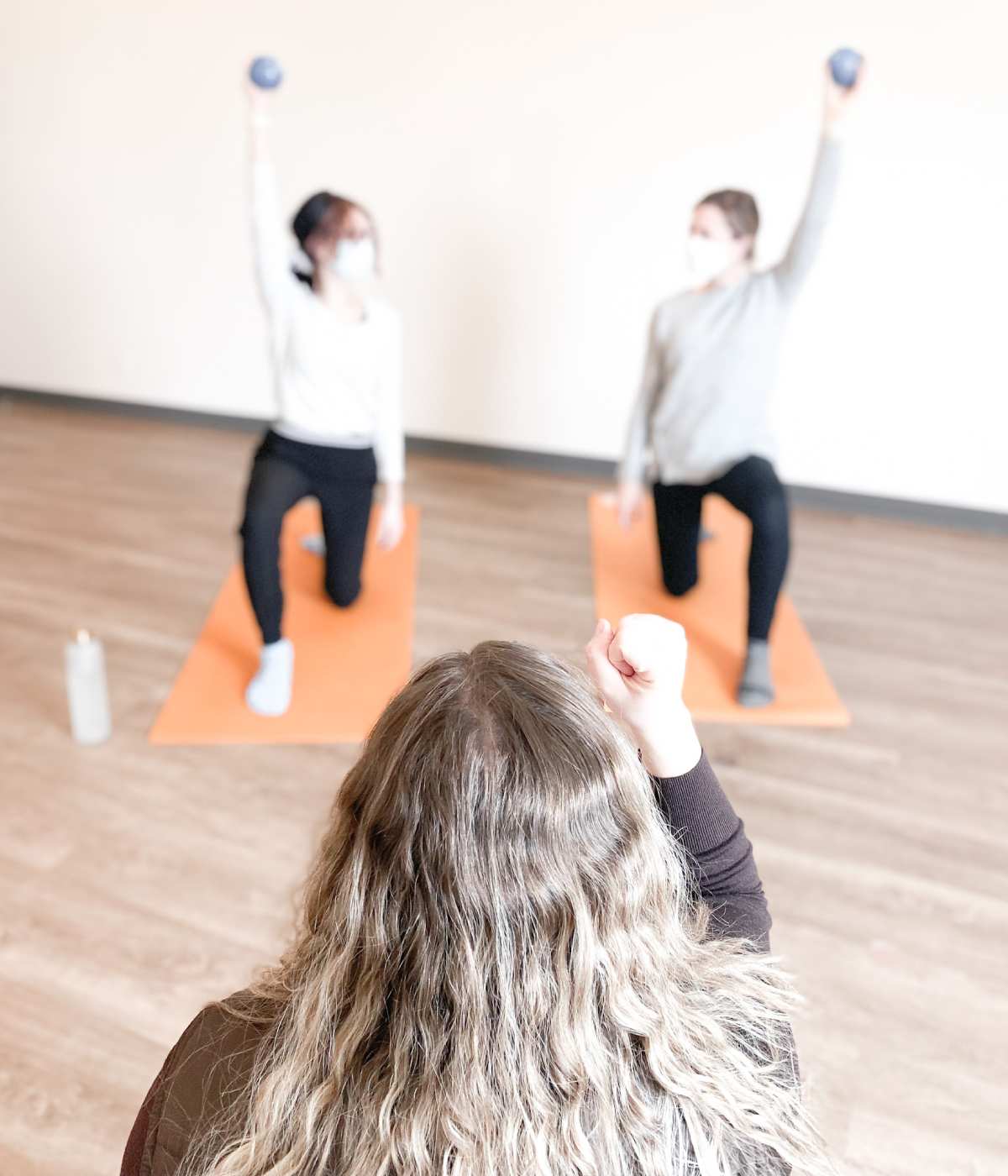 I think Pilates and GYROTONIC® have similarities, but at the same time they are very different. Both work the mind and body, and both demand a lot of focus on your breathing. They come from the same principles, but GYROTONIC® is more fluid and rooted in 3-D movement, with more 'combined' movements. In Pilates, we also focus on the strengthening and mobility of the body – but it is done in a more regimented style.
And so with that, the construction of this "bridge" that Valerie had always envisioned is now under way – connecting science and art, clinician and teacher, physiotherapy and the GYROTONIC® Method. No, you won't need construction helmets and steel toed boots when you come to the Clinic, but you better be ready to move with Riandre. Not only will she likely be a part of your physiotherapy treatment plan as prescribed by our physiotherapists, but you may also find yourself in a class or private sessions when your treatment goals have been successfully met and you're inspired to continue moving with us!
PT'MOVEMENT is truly the product of a commitment to learning and a passion for movement.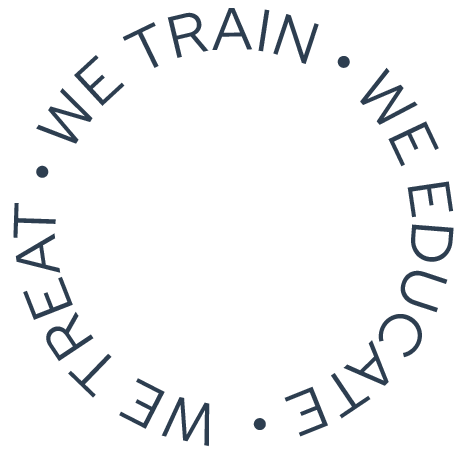 Start your treatment with PT'MOVEMENT Wellness Centre. Book an appointment today.